The following is an excerpt from the MiniWaters email that goes out to our wholesale customers; if you're a LFS owner looking for well-conditioned marine and freshwater fish, with an eye towards captive-bred livestock, let's chat. Shoot me a wholesale inquiry today.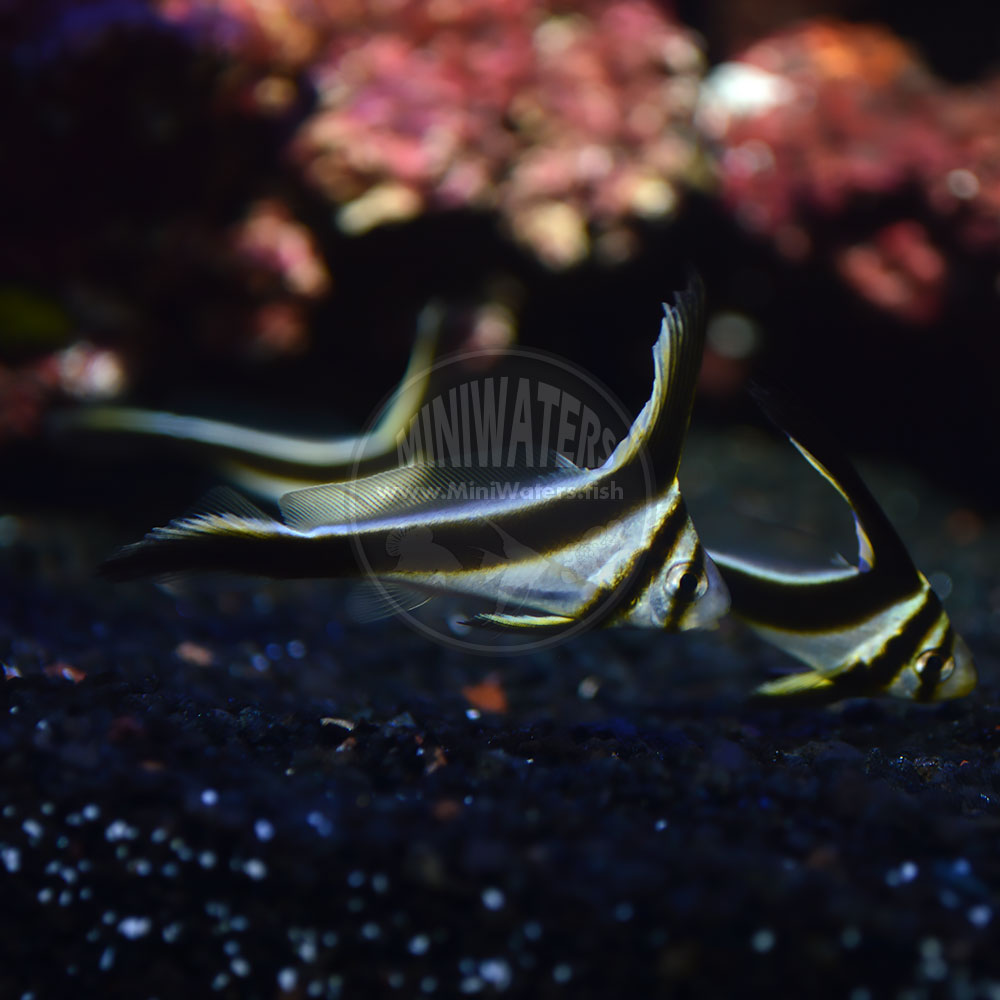 I have to point out the captive-bred Jackknifes (Equetus lanceolatus) from Proaquatix; right now they are at the PERFECT size, around 2". I'd love to bring in a lot more of these to get them into the hobby while the year's crop is at this ideal size, but that requires you guys putting 'em in your shops to sell them. They're a good example of a showy fish that in principle should be reef-safe; they are predators, and can reach a respectable size of around 9", but their main focus is going to be inverts (eg. shrimps), and *possibly* small fish, although that's up for debate.
This is a perfect example of a captive-bred marine fish that is superior to wild-caught versions in every way. They're more robust; they simply don't have disease issues like wild ones. They pound pellet foods. The size is far better than what you usually see from the wild. The PRICE is actually pretty good too; most online retailers have wild JackKnifes in the $100-$150+ range (yes, there are a few outliers that are lower…but I suppose that will always happen), but of course, I challenge you to find them AVAILABLE, particularly now after Hurricane Irma just devastated the Florida Keys.
If we don't promote and sell fishes like these Captive-bred Jackknifes, I just see a future where a company like Proaquatix would stop producing them, and that's not a future I want to see! I'm already taking less than my normal markup to offer these at a wholesale level, so please give them some serious consideration this week!
Remember, if you're in my SpeeDee Delivery zone, shipping is generally going to be less than $10 a box; I challenge you to show me Air Cargo, FedEx, or UPS at that rate (unless they're giving you free shipping, but hey, $10 a box is still highly competitive in my book)!
You can learn more about the captive-bred Jackknife fish, or make a retail purchase, here on MiniWaters.fish.
If you're a LFS owner/manager and you like my way of thinking, why not get on our wholesale distribution list? Shoot me a wholesale inquiry today.