No joke, as far as I'm aware this is the first offering of Bali Aquarich's captive-bred Apolemichthys xanthopunctatus, the Goldflake Angelfish. In 2015, Wen-Ping Su and his team first succeed creating a captive-bred hybrid of A. xanthopunctatus X A. trimaculatus; during the Spring of 2016, images were first released of juveniles where both parents were reported to be A. xanthopuncatus. I received the first two, and reportedly ONLY two, that were permitted to be shipped in with my request. They have been here in quarantine since June 1st, and are ready for your tank!
Being from wild-caught parents (these represent the first ever captive-bred Goldflakes) they are "F1". They are very active, and are roughly 1.25″, eager to eat pellet feeds as well as graze on algae growth in the tank. Both fishes currently share a 33 gallon x-long aquarium, and although there is some feigned aggression and interactive displays, they don't cause any physical harm to each other. The two currently available could, conceivably, make for a really nice pair.
Watching their development, I was slightly concerned that they may in fact be the aforementioned hybrid; the loss of the eyestripe in both fish at such a young age didn't seem right. That said, it appears that pattern development is inconsistent in juvenile Goldflakes. Although I have reconfirmed the species ID, mistakes could still happen unknowingly. In the worst case scenario, these would wind up being the very-rare hybrid, which is arguably more brightly colored and equally attractive (see this example of a pure adult Goldflake, along with the more yellow hybrid, photographed by Kevin from Pacific Island Aquatics). I thought about holding them to grow out in order to confirm their ID, but I'm in the business of promoting and selling captive-bred marine fishes, not holding onto every last unique one I'm able to obtain!
Obviously, these are juveniles; check out this photo from NOAA photographer Kevin Lino to see what the adults look like: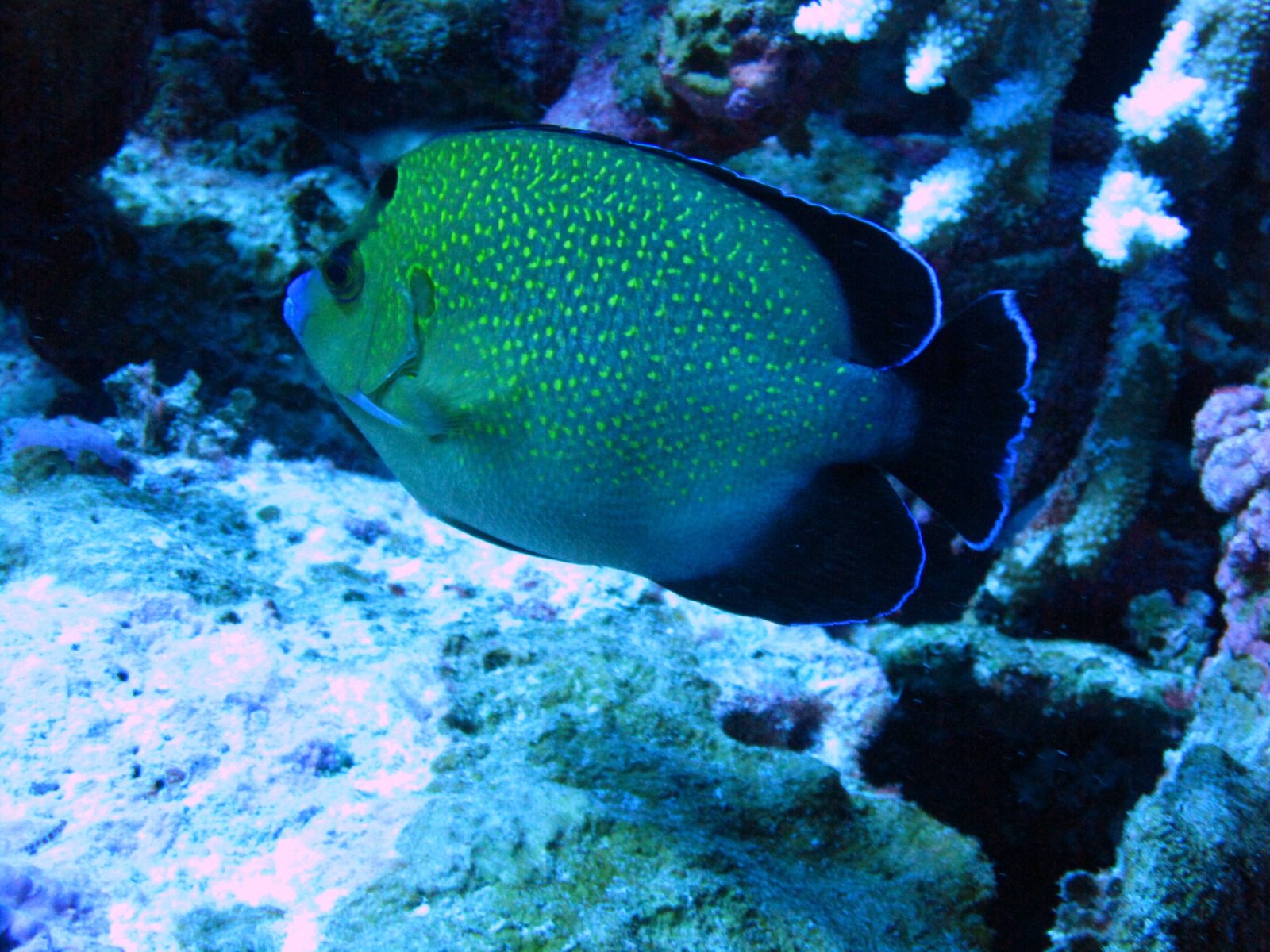 Goldflake Angelfish are a "smaller" big angelfish; they max out at 10″, so obviously usually less. As with most any "large angel" in a reef tank, they are considered reef compatible with caution; what that really means is that it might not eat EVERY type of coral you keep, but some things will likely wind up on the diet. That is the risk. Fortunately, being captive-bred, these Apolemichthys xanthopunctatus have never seen a coral to eat in the first place, being fully on pellet foods from the day I received them! They are not generally considered to be a suitable "beginner's fish"; they should be offered an omnivorous diet.