This is a WYSIWYG offering. This is the EXACT pair of fish being offered.
This proven fertile spawning pair of Amphiprion percula is somewhat special to us here at MiniWaters. Their parents were a wild pair of Onyx Percula purchased over a decade ago, and were the first pair of clownfish I successfully spawned and reared.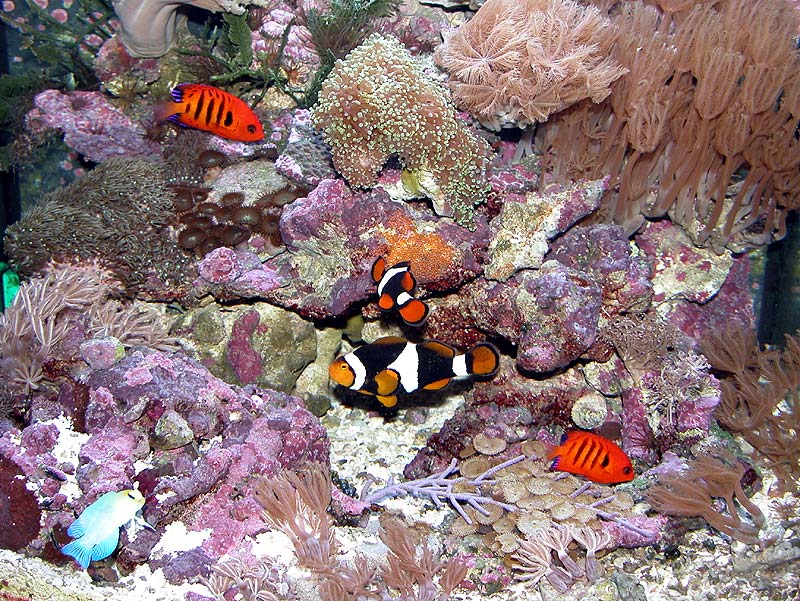 I lost the original wild Onyx Percula pair in a quarantine accident a few years back, but I had a few off their offspring still on hand. Only one baby still lives here today, the male in a pairing with a Nebula Percula. This pair being offered for sale here were two of the last offspring (siblings) that went to my fellow Duluth breeder Mike Doty. At the time of this listing, these fish are probably somewhere in the neighborhood of 5-6 years old.
Mike documented their growth and breeding on the Lake Superior Marine Aquarium Club forum (read it here), and used them to gain a species success with the Marine Breeding Initiative.  We went back and forth on whether we should keep this pair here in Duluth, but at the end of the day I don't have a need for them and Mike wants to pursue other breeding options.
As you can see in the photos, the male is fully onyx (full black flanks) whereas the female has so far only developed black shoulders. I've found that the environment can alter the outward appearance of Onyx Percula from wild lineage, so who knows! Note, neither have perfect bars. As I type this today, the pair once again is sitting on a nest of eggs. We've priced this proven pair of fish aggressively for quick sale…Mike is simply eager to free up the tank space. Arguably, these are a true steal!
My guestimates on the size? The female is perhaps 2.75″, the male 1.5″?
As many of you probably already know, moving a pair of spawning fish can set them off for weeks, months, even longer. It is important to note that with the purchase of a proven pair of clownfish, all bets are off; we cannot guarantee that they'll resume breeding or that they'll even remain compatible following the move. If there is a DOA within this pair pair, 50% of the purchase price will be credited / refunded. Your purchase of a pair is your acknowledgement and acceptance of these additional terms.