Amphiprion bicinctus is native to the Red Sea, and is known as the Red Sea or Two-banded Anemonefish. Juveniles have 3 stripes, but mature adults generally lose the tailstripe and tail flag. Large adults may develop lyretails, and are generally dark brown with yellow fins.
Almost all the Bicinctus you see these days are captive bred, partially because wild fish from the Red Sea are more expensive, and partially because of the popularity of the designer genetic variant Spotcinctus. Based on our understanding of Spotcinctus genetics to date, mating one of those with a standard, wild type Bicinctus as offered here, should yield a nice 50/50 mix of both varieties.
As mentioned above, captive-bred A. bicinctus start out as bright yellow fish. As they mature, their flanks dramatically darken; adult fish tend to have yellow fins and brown flanks. It is unclear why they don't retain the bright yellow coloration into adulthood that many wild specimens have; I can only hypothesize it has something to do with the environments we keep our fishes in. It's noteworthy, as shown in this great public-domain image from Russian photographer O. Tsyganov, that in the wild both light and dark specimens can be seen side-by-side.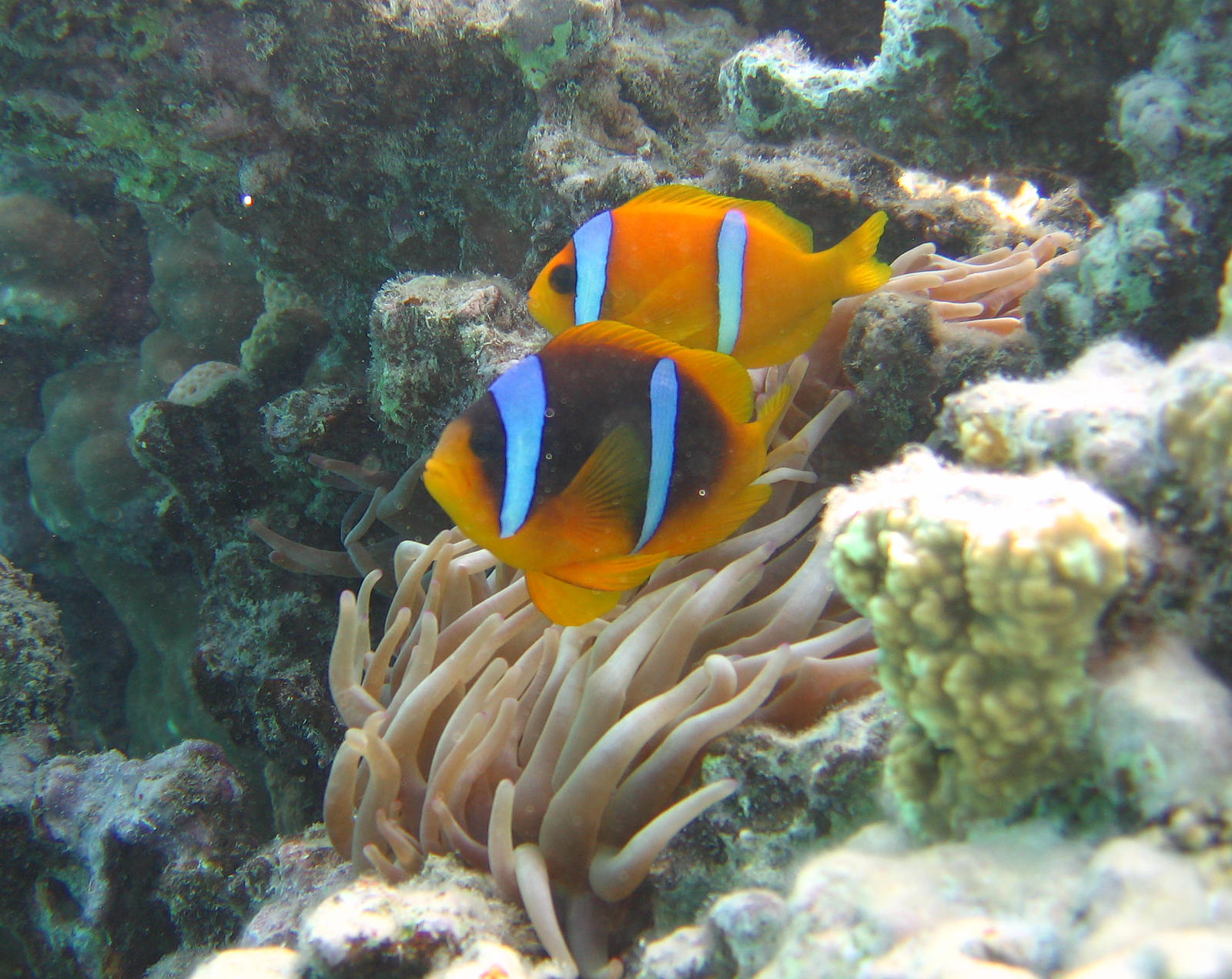 Is there a genetic variation at play? Sexual dichromatism? Geographic variation? At the moment, it's impossible to say. Could it be that our current ubiquitous captive-bred strains all simply originated from darker fish, and that new strains established with light colored fish would breed true?
Bicinctus is also noteworthy in that mature fish can exhibit blue stripes, as seen in the photo above.
Many Bicinctus wind up growing extensions on their caudal fins; this, along with the darker coloration these fish tend to have at maturity, can at times cause confusion with them and the nonexistent-in-the-trade Amphiprion omanensis. So…while you can't get Omanensis at this time, you might actually be reasonably happy with a mature Bicinctus!
Bicinctus can get big; Fishbase lists the maximum size at 14 cm (5″); I've seen old fishes easily reach that in captivity, and yet they were still gladly spawning in a 10 gallon aquarium!